Ashtanga Yoga and Pranayama Workshop with KIA NADDERMIER | Porto, Portugal | Sept 28-29 2019 
Awakening all layers of practice – body, breath & mind As awareness interiorizes and quietens, our practice experience appear more and more inclusive. This workshop integrates the practice of Ashtanga Yoga with Pranayama & Philosophy. We include multiple aspects and perspectives to cultivate a transformational, yet sustainable practice rooted in personal exploration. It is designed for all practitioners looking to deepen their understanding of yoga as a whole, involving all layers – body, breath and mind. We will look at ways to refine our awareness of the breath, its significance in yogic practice and philosophy and alignment in asanas. This is an opportunity to work closely with Kia, whose teachings integrate her profound knowledge of breath, yogic philosophy, and subtle and physical anatomy with extensive experience of Mysore practice and adjustments.
WORKSHOP PROGRAM:
SATURDAY
9 – 10.15- Pranayama & Philosophy – Pranayamas, ancient yogic breathing techniques, link the body with the mind and take our practice beyond the simply physical aspect to the next level of awareness. Since the mind (Citta) is closely connected to the breath, observing the breath brings consciousness to stillness, allowing for a meditative state to naturally unfold. In these sessions we will deepen our appreciation of the subtleties of breath and its significance in yogic practices and philosophy. New students will be introduced to traditional teachings of pranayama & kriyas, whilst those with more experience will refine and deepen their practice and understanding.
10.30 – 12.30 – Ashtanga Yoga Master Class – Practice, principles & philosophy – As our practice matures so does our appreciation for its many layers and subtleties. Kia will share experiences, insights and principles for developing a deeper understanding of Ashtanga Yoga as a practice for our entire being – body, breath and mind. We will journey through key elements of the Primary- & Intermediate Series with an explorative mindset, looking at common energetic principles, actions & alignment details. Creating an understanding for Asana not only as a practice but as an Anusthan, a way of being, a state of mind.
SUNDAY
9 – 10.15- Pranayama & Philosophy  
10.30 – 12.15 – Ashtanga Yoga – Traditionally Sanskrit Counted Primary Series – We close the circle of this intensive by coming together as One in body, breath and mind through the beauty and flow of a traditionally Sanskrit counted Primary Series. When we focus on counting the mala of the postures, the practice becomes the object of meditation for the student and the teacher – creating one single intention.
THIS WORKSHOP WILL BE CONDUCTED IN ENGLISH.
ABOUT KIA: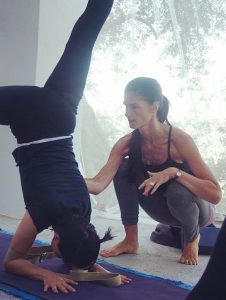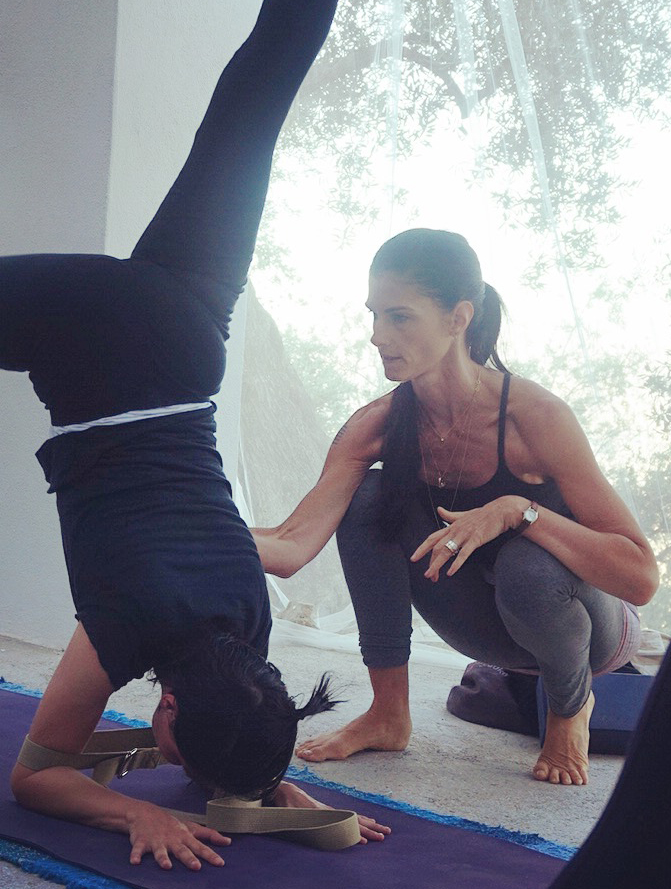 Kia Naddermier has over 20 years of experience of Ashtanga Yoga and is the founder, director and main teacher at Mysore Yoga Paris (http://mysoreyogaparis.com) where she upholds the daily Mysore program. She is a dedicated advanced practitioner and teaches Ashtanga Yoga, Pranayama, adjustment techniques, she mentors teachers and gives trainings, workshops and retreats internationally. Kia is a devoted long-term Pranayama practitioner and certified to teach directly by Shri O.P. Tiwari according to the Kavalyadham lineage. With a genuine dedication to the growth and development of her students, Kia offers an including and inspiring space open for personal exploration, inquiry and transformation. Her deep love and years of dedication to all aspects of this practice shines through in her warm, insightful and inspirational teaching. More about Kia: www.mysoreyogaparis.com

THE VENUE: This workshop will take place at Casa Ganapati, a Yoga and Vedanta Studio located in the city of Oporto, Portugal. Casa Ganapati is a small traditional Yoga Shala just 2 minutes away from the powerful Atlantic Ocean. More about Casa Ganapati: www.casaganapati.com
HOW TO REGISTER 
Cost: 150€ | EARLY BIRD: 130€ (until the 15th July)
Registration must be submitted by email to ana@casaganapati.com and confirmed with the payment.
Places are limited so please book in advance.
Registrations after the 6th September will have an additional 20€ cost